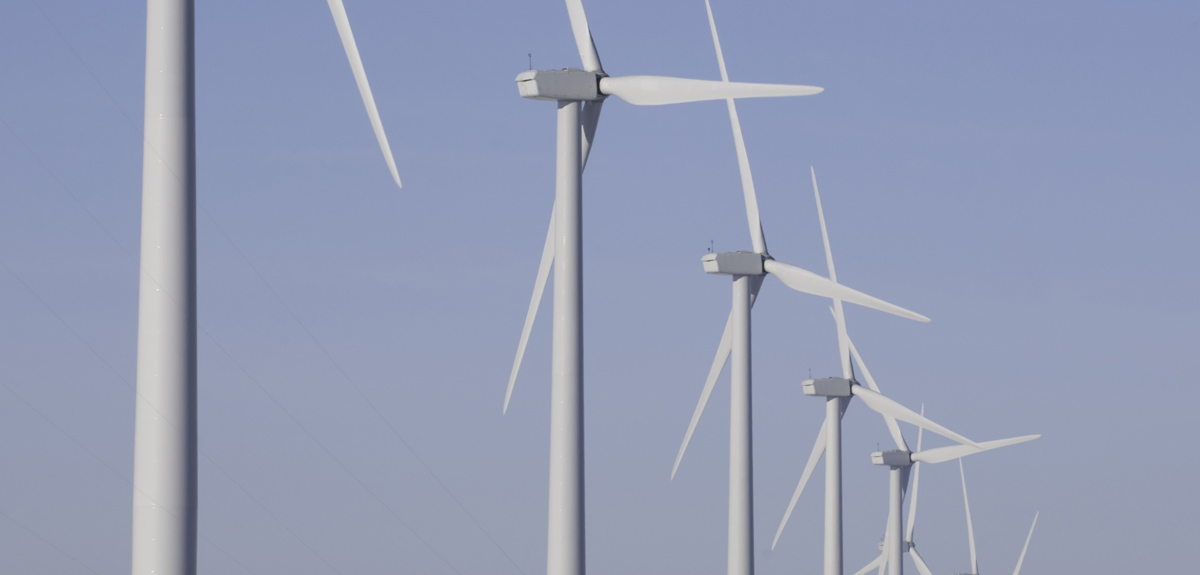 Energy, Environment and Preservation
Illinois has an abundance of resources including coal, agriculture, prairie, lakes, and rivers. These resources keep our economy moving. They give water to sustain us, provide recreation, and tell the story of our history. While abundant, these resources are not unlimited. Fortunately, Illinois is also home to cutting-edge technology to efficiently use and preserve these resources. From clean coal technology to biofuels to our national laboratories at Argonne and Fermi, our world-class research is paving a path for sustainability for the entire nation. Clean, renewable energy supports jobs for Illinoisans in a growing industry.
We depend on clean water and a vibrant ecosystem for our health, recreation, and economy. The Great Lakes are the largest fresh water supply in the nation, containing about 20 percent of all the fresh water in the world. The Lakes serve as the source of drinking water for nearly 40 million people throughout the region and support a wide range of recreational and commercial pursuits. I am committed to preserving wilderness areas in Illinois and across the country for future generations to enjoy.
Clean, renewable energy paired with advancing new technology means jobs and economic growth for Illinois and for America. Over 90,000 Illinoisans work in the clean energy sector—including design, manufacturing, and installation. Wind projects in the state have reduced carbon dioxide emissions by 5.5 million metric tons annually, the equivalent of taking 980,000 cars off the road. In total, over $7.2 billion dollars of capital investment has been made in the state, and almost $11 million in lease payments are made each year to landowners.
New combined heat and power plants produce both electricity and heat, generating two products at the same time. Many industrial processes produce waste heat that can be recycled to produce additional, affordable clean electricity.
Coal is an abundant domestic energy resource in Illinois, but we need to figure out how to use it more efficiently, generating more energy with fewer carbon dioxide emissions. Illinois is leading the way with FutureGen, a near-zero emissions coal plant that I helped secure federal funding to build in Meredosia.
The goal of FutureGen is to use Illinois' abundant coal resources in combination with near-zero emissions technology. It is the first power plant in the U.S. to use carbon capture and storage technology at a large scale. A University of Illinois study suggests that the federal government's $1 billion dollar investment in FutureGen will lead to over $12 billion in economic benefits and create 2,000 jobs.
We have a great resource in Illinois: our fields are helping to reduce dependence on foreign oil. I have been a longstanding champion of biofuels: I was the first Member of Congress to introduce legislation requiring ethanol to be blended into gasoline; and I have consistently supported important biofuels research in Illinois. Replacing imported oil with home-grown biofuels such as ethanol and biodiesel leads to improved air quality, greater farmer profitability, and the creation of jobs and economic development in rural areas. I will continue to fight to ensure renewable biofuels remain a viable and strong part of our country's energy future.
One of the most significant environmental crises we face is climate change. We are already witnessing some effects of a changing climate—melting glaciers, rising sea levels, extreme weather events, chronic floods and droughts, and accelerated erosion. Scientists predict that these events will occur more frequently in the future with negative repercussions for our economy and national security, in addition to our environment.
America's national laboratories and research universities foster innovation critical to U.S. economic growth and competitiveness, and Illinois is home to this nation's finest. As a member of the Appropriations Committee, I have worked to provide funding so researchers at Argonne and Fermi National Laboratories and Illinois' universities can conduct ground-breaking scientific research in the areas of fuel efficiency, high energy physics, drug discovery, nuclear energy, and climate change.
In the future, water will prove to be an even more precious resource than it is today. I consistently have supported efforts to keep our lakes, rivers, and oceans safe for future generations. The Great Lakes are the largest fresh water supply in the nation, containing about 20 percent of all the fresh water in the world. The Lakes serve as the source of drinking water for nearly 40 million people throughout the region and support a wide range of recreational and commercial pursuits.
I am dedicated to protecting Lake Michigan by fighting invasive species and reducing pollution. I consistently have fought industry efforts to discharge increased pollutants into our waters and worked with federal and state authorities to ensure that our drinking water standards protect public health. I will continue to lead the effort to restore, preserve, and protect the Great Lakes -- one of our country's greatest natural resources.
The Great Lakes Restoration Initiative (GLRI) was launched in 2010 as a cross-agency action program to protect the Great Lakes. I helped secure over $1.3 billion in funding since its initiation, leading to many successful projects to restore wetlands, protect watersheds from polluted run-off, combat invasive species, and clean up toxics and areas of concern, including Waukegan Harbor.
The S.S. Badger is a 60 year-old coal-fired car ferry that dumps over 700 tons of coal ash directly into Lake Michigan every year. It is the dirtiest ship in all of the Great Lakes and accounts for six times more waste than the other 125 Great Lakes vessels combined. In 2008, the ship was given clear instructions to stop discharging coal ash by the end of 2012.
I have worked diligently to stop the S.S. Badger from continuing to endanger the Lake, and the Environmental Protection Agency now has a legal agreement with the S.S. Badger requiring it to stop dumping coal ash in 2015.
As our world becomes increasingly interconnected, we will grapple with a growing number of invasive species. In Illinois alone, we face the threat of the emerald ash borer, Asian carp, zebra mussels, quagga mussels other invasive plants and animals. Left unchecked, these exotic species have the potential to decimate native wildlife populations, upset ecological balances, and cause significant economic damage. I have worked with the numerous federal agencies involved to promote an efficient and coordinated effort in controlling these species.
Illinois is one of more than 20 states affected by the emerald ash borer, a beetle that feeds on and destroys ash trees. I have long supported efforts to increase Department of Agriculture funding for research, control, and eradication of the emerald ash borer. The 2014 Farm Bill authorized permanent funding for Plant Pest and Disease Management Programs to improve and protect forest health from the ash borer and other pests.
To learn more about the emerald ash borer and its impact in Illinois, visit http://www.agr.state.il.us/eab/.
Originally introduced into fish farms in Arkansas, Asian carp have been traveling up the Mississippi and Illinois Rivers since the 1970s, wreaking havoc on the ecosystem, economy, and the commercial and recreational boating industries along the way. Asian carp are aggressive competitors—bighead carp can grow up to 100 pounds, while silver carp frequently jump out of the water at the sound of motors, in some cases seriously injuring boaters. The potential migration of Asian carp through the Chicago Area Waterway System is one of the most serious threats facing the Great Lakes.
Since 2003, I have led Senate efforts to secure funding for research and implementation of control strategies to prevent Asian carp from entering Lake Michigan. To date, we have been successful in warding off the invasion of Asian carp with strategies such as electric dispersal barriers, netting, and eDNA monitoring. I continue to work with my colleagues in Congress and with federal, state, and local authorities to determine a comprehensive approach that will prevent this invasive species from entering the Great Lakes.
Wilderness areas in America are a precious and dwindling resource. I am committed to preserving natural areas in Illinois and across the country for future generations to enjoy.
I have long supported the important work local and regional environmentalists are doing to protect natural habitat and make it available for recreational use. I also urged the U.S. Fish and Wildlife Service to designate the Hack-Ma-Tack area in McHenry and Lake Counties as a Wildlife Refuge. This designation was made in November 2012, and conservation efforts are underway.
I am working with the U.S. Forest Service to help restore the Midewin National Tallgrass Prairie through land transfers. This area contains 19,000 acres of open space in the northeastern part of Illinois.
Illinois is home to many important and historic places worthy of preservation. These sites remind us of America's heritage and provide educational opportunities for people of all ages.
I have long supported a National Historical Park designation for Pullman and introduced a bill in January to take steps toward a designation. The Pullman site played an important role in African American, labor, and early Civil Rights history through the legacy of the Pullman Porters as well as the development of the Brotherhood of Sleeping Car Porters, the first black union.
I am working with the National Park Service and groups in Metro East to secure a National Park designation for Cahokia Mounds. One of the great cities of the world in its heyday, the site, in what is now Collinsville, IL, was larger than the City of London in 1250 AD. The area is named for the Cahokia subtribe of the Illinois tribe, who lived there in the 1600s.
I haves supported legislation authorizing a U.S. Department of the Interior study of the historical town site to determine the feasibility of the area to be designated a unit of the National Park Service. The New Philadelphia Town Site, which is located in Pike County, was the first city registered and established by African Americans before the Civil War.