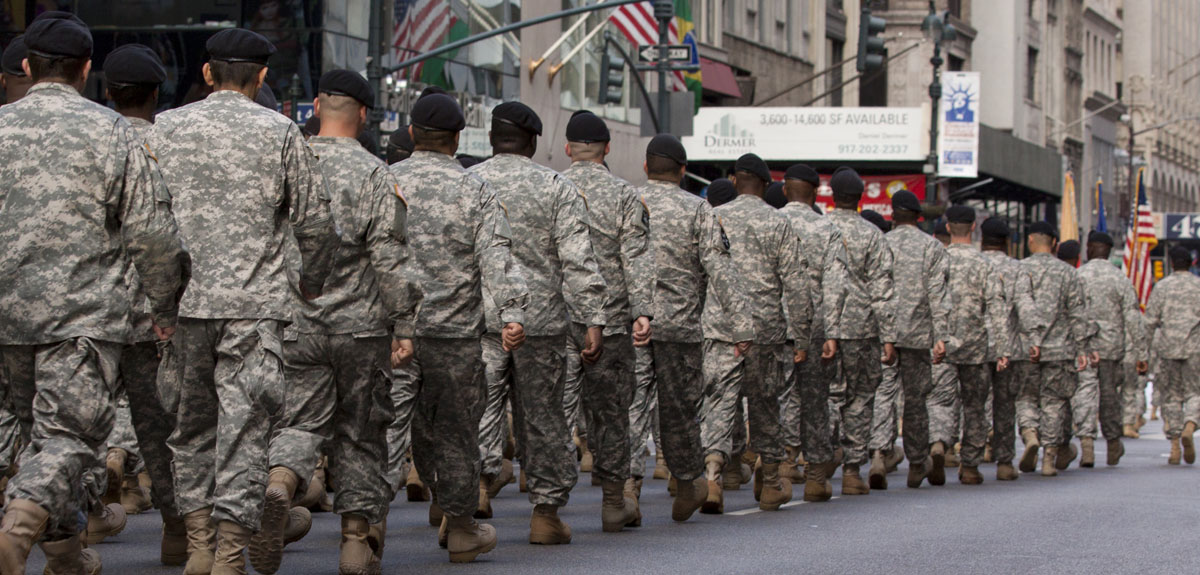 Military and Veterans
As a leader of the Defense Appropriations Subcommittee, I work every day to ensure that our men and women in uniform are the best trained, best equipped force in the world and that their families receive the support and recognition they deserve. The needs of all our servicemembers - active duty and reserve, in theatre, or here at home – are our first concern.
Thousands of Illinois's finest serve in the military today. Illinois' 13,000 National Guard men and women and the tens of thousands of active duty, reservists, and civilian personnel serving at Naval Station Great Lakes, Rock Island Arsenal and Scott Air Force Base defend our nation every day from domestic emergencies and foreign threats. I have worked to secure critical support and resources over multiple years for military missions in or near Illinois, supporting thousands of jobs.
In addition to advocating for our troops, I support those who have served in uniform. Veterans – 750,000 of whom live in Illinois – deserve our deepest gratitude and unqualified support. We, as a nation, have promised veterans that in exchange for their service they will have access to certain benefits and care. These men and women answered the nation's call to serve, but doing so put strain on them, their families, and their finances. It is our duty in Congress to ease this burden as much as possible and deliver on our promise.
I am working to ensure that the Defense Department has every resource it needs to care for our troops while they are serving and after they return home.
I led the charge for an increase in combat pay and the family separation allowance for the deployed men and women. I also led the effort on reservist pay so that federal employees who serve in the Guard or Reserve are compensated for lost income when mobilized for an extended period of time away from jobs that paid more than their military compensation.
In addition to financial stability, our troops—fighting for the rights and freedom of this country—deserve to be treated with dignity and respect. I supported reforms to the military justice system to improve the ways that the Department prevents military sexual assault, assists victims and prosecutes perpetrators – including creation of Special Victim Counsels— and nearly tripling sexual assault prevention funding since 2012. I introduced and led to enactment the law prohibiting disruptions of the funerals of veterans and members of the Armed Forces to ensure that our soldiers, veterans, and those fallen heroes who sacrificed their lives for the good of our country can be laid to rest with dignity.
The Pentagon is not immune to waste and mismanagement. As Chair of the Defense Appropriations Subcommittee, I was able to identify and cut waste and redirect those funds to high-priority projects such as equipment and training programs for our troops. I have cut more than $10 billion each year by fostering greater competition and identifying outdated requirements that continue inefficient programs. Under my leadership, the subcommittee reduced or eliminated 981 individual programs that were behind schedule, duplicative or unjustified. The Defense budget accounts for nearly half of our discretionary spending. I am committed to ensuring accountability and spending taxpayer dollar efficiently and on priority programs that enhance our mission and support our troops.
Illinois' 13,000 National Guard men and women and the tens of thousands of active duty, reservists, and civilian personnel serving at Naval Station Great Lakes, Rock Island Arsenal and Scott Air Force Base defend our nation every day from domestic emergencies and foreign threats. I have worked to secure critical support and resources over multiple years for military missions in or near Illinois, supporting thousands of jobs.
Time and again, Rock Island Arsenal has answered our troops' call for critical equipment that the private sector couldn't make in time, such as HMMVV armor kits in Iraq. I have worked to preserve this critical capability by renewing the Arsenal's ability to partner with the private sector and ensuring that the Arsenal is a strategic budget priority for the Army.
Scott Air Force Base is the Pentagon's premier transportation and mobility hub, supporting our strategic interests around the world. I have worked closely with the National Guard and Air Force leaders to ensure coordination of ongoing efforts and a secure future as a cyber hub.
The Springfield 183rd has served an important role in our state and the National Guard and has a strong future with its new classified operations center. I have worked with the Air Guard to secure a commitment for continued missions.
Naval Station Great Lakes trains tens of thousands of new Navy recruits every year, and its associated charter school provides a high-quality education to local military and civilian children alike. The nearby Lovell Federal Health Care Facility in North Chicago – a joint Defense and Veterans Affairs pilot program I proposed several years ago – has proven a successful demonstration of the increased quality of care and cost savings that can be achieved through collaboration.
When veterans come home from war, they should receive the care and benefits they earned. Recently, we've learned that many of the needs have not been met. Much of the Veterans Affairs (VA) healthcare system, including a few VA Medical Centers and clinics in Illinois, are in need of reform. Over the years, I have had the pleasure of meeting VA employees at facilities across Illinois – many from military families or former service members themselves – and I have found them to be dedicated public servants committed to serving the men and women to whom our nation owes a great deal. It is time for all of us in public service – including Members of Congress, VA administrators, hospital and clinic staff, and others – to work together to solve the issues facing our VA system and ensure that our veterans receive the care and benefits they earned.
The Department of Veterans Affairs' Family Caregiver Program is modeled on a bill I introduced in the Senate. It provides technical, financial and practical support to family caregivers of post-9/11 veterans seriously injured in the line of duty. Caregivers can receive training, counseling, peer mentoring, respite care, and health insurance, in addition to a monthly stipend. Stipends range from an average of $600 to $2,250 per month, depending on the level of care and the geographic location. The program began in May 2011, and nearly 15,000 veterans have been approved to participate.
To help veterans who have had a difficult time getting appointments with the VA for general medical care, I supported a bill—now law—that creates an alternative. The law directed the VA to create Veterans Choice Cards to allow eligible veterans who have had to wait more than 30-days for an appointment or who live more than 40-miles from the nearest VA facility to seek help at another health center. With a Choice Card, veterans in Illinois and elsewhere can seek care from a private physician, a community health center, a Department of Defense health care facility, or at an Indian Health Center. Many eligible veterans have received their Veterans Choice Cards already and more are being distributed by the VA. If you have a question about Veterans Choice Cards you may want to call the VA Choice Card help line: (866) 606-8198.
The Department of Veterans Affairs has a backlog of hundreds of thousands of claims. Each claim was made by a veteran. Many of these individuals have been waiting years to receive the care that they were promised. The backlog existed long before American forces entered Iraq, but the current conflicts have generated far more claims than the Department is processing.
VA has made progress in reducing the backlog but the system still lacks the necessary resources to allow VA employees to process claims quickly, fairly, and accurately. VA needs a plan to handle the influx of combat veterans seeking care now and in the years to come so the federal government can serve veterans and their families promptly.
The VA has a long way to go in its handling of the many issues faced by the rising number of women veterans. By 2043, the VA projects the number of female veterans will increase by 16 percent, while the number of male veterans will decrease by almost 40 percent. Nearly 250,000 women have been deployed to Iraq and Afghanistan. About 67,000 women veterans live in Illinois.
Studies show that women veterans are more likely than their male counterparts to be uninsured, unemployed, divorced, and experience post-traumatic stress.
Although every VA medical center, including the five in Illinois, is required to have a program manager who coordinates female veterans' care, many basic needs still are not being met. About one-third of VA clinics do not have a gynecologist on staff. I support better care for these deserving servicemembers, including the establishment of VA health centers specifically for women.
As Americans, we have an obligation to see that every man and woman who has sacrificed to serve our country has a place to call home. Although we have a long way to go, the VA has made veterans and homelessness a much higher priority in recent years. Between 2010 and January 2014, the number of homeless veterans nationwide dropped by 33 percent. Illinois has a number of facilities that help homeless veterans and connect them with appropriate health care to address some of the underlying issues that contribute to homelessness. Working together, we can make sure that the men and women who have put themselves in harm's way to keep us safe at home and abroad have a stable home and the opportunity to succeed.
Both the Department of Defense and Department of Veterans Affairs conduct medical research, pushing the boundaries of modern medicine for our troops – much of which also improves civilian medical care in hospitals and paramedic units across the country.
I successfully fought for increased funding for medical research through the Defense Department. I also support more funding for medical and prosthetics research through the Veterans Health Administration. Defense and Veterans research programs help develop cutting edge treatments in a number of areas, including post-traumatic stress, traumatic brain injury and wounded warrior care. This research already has made significant advancements in suicide prevention techniques, biomarkers for mental health conditions, and more advanced, lightweight prosthetic limbs.
I am championing efforts to help expand advanced training programs in orthotics and prosthetics, as the demand for skilled clinicians is outpacing trained graduates in the field. I'm also working to establish outcomes research at DOD and VA to develop best practices in fit and care of O&P patients.
Traumatic brain injuries (TBI) have been the signature wound of the wars in Iraq and Afghanistan. The advances we have made in body armor and other protective measures for our troops mean that, thankfully, more soldiers survive attacks that in past wars would have been fatal. Yet we have not been able to protect soldiers from the concussion of the powerful blasts of improvised explosive devices.
To improve our understanding and treatment of TBI, I introduced legislation enacted as part of broader legislation to ensure the provision of all necessary services for TBI victims and expand TBI research in the Department of Defense.
As in past wars, we are seeing many cases of Post-Traumatic Stress (PTS) in our returning soldiers. We now understand that a seemingly healthy veteran who has returned to his or her civilian life is still at risk for developing PTS and that nearly one-third of returning veterans either have or will develop PTS. I've sat down with recently retired veterans across Illinois to hear firsthand the experiences of those living with PTS and talked with the counselors who work with them.
I authored an amendment that prohibits the VA from revoking or reducing a veteran's disability compensation for PTS based on a review unless the claim was the direct result of fraud by the applicant. Just as we are obliged to treat physical injuries, we must treat the life-changing psychological wounds our soldiers incur in combat.